THE COMPLETE SOUND SYSTEM
For those that like to entertain, and to stand out on the water – this package is for you!
This package includes:
1x WS-MC-20 Wet Sounds Head Unit
1x HTX-6 Wet Sounds Class D 6 Channel Marine Amplifier
2x Pairs of REVO 8 Speakers
1x REVO 10 Wet Sounds Free Air 2 Ohm V2 Subwoofer
1x REVO 10 Subwoofer Grill to suit speaker grill
1x RCA-6CH 17Ft Wet Wire Connector Cable
MC-20 SPECS
The next great receiver from Wet Sounds™, The WS-MC-20 Compact 2-Zone Media Receiver Source Unit with SiriusXM-Ready®. The WS-MC-20 provides a great solution for those who need to install a receiver in smaller and tighter spaces all while maintaining the ability to provide Wet Sounds un-matched sound quality.
Enjoy AM/FM/Weather Band, Bluetooth® Audio, SiriusXM (with SiriusXM Connect Tuner and Subscription Package, Sold Separately) and NMEA Connectivity with optional Interface Accessory. You can also now connect your back-up camera to the MC-20 via the video input so you can always be aware of your surroundings. You can't go wrong with MC-20!
Features Include:
AM/FM/Weather Band tuner with RBDS
Bluetooth® Streaming, Auxiliary, & USB Inputs
SiriusXM-Ready™ (SiriusXM Connect Tuner and Subscription sold separately)
Compatible with SiriusXM SXV300 Connect Vehicle Tuner, Model # SXV300V1
Simple & Secure Bluetooth® Pairing for Android & IOS (A2DP/AVRCP 1.4)
3" Ultra Bright full color TFT display – displays album art via compatible devices
Playlist & folder browsing via BT or USB Connection via compatible devices
Internal Power Amplifier 4x50W @ 2 Ohm Max Output
Preamp outputs X 3: Front, Rear & Switchable, Zone 2 or Subwoofer Output w/ Level Control
Independent Volume Control for Secondary Zone – Full Range or Subwoofer w/ Selectable LP Crossover 60/80/100Hz. LP Crossover Slope Selectable at 12dB or 24dB per Octave
Reverse Camera Video Input with Reverse Trigger
NMEA 2000® Connectivity (Optional interface accessory required)
Day/Night Illumination & Dimming
Accepts the optional WS-G2-CTR transom remote & WS-G2-TR transom remote
Optional Flush Mount Bezel
Manual Here – https://www.wetsounds.nz/wp-content/uploads/WS-MC-20-Manual.pdf
HTX-6 SPECS
Wet Sounds™ Hydro-Tech™ X (HTX) Series Amplifier. Wet Sounds represents the ultimate in High Performance Marine Audio. Wet Sounds HTX Series Marine Amplifiers are designed to be a complete solution for every type of extreme marine application. HTX amplifiers use superior performance circuitry by utilizing Class D Power Supplies. These amplifiers have extreme power output packed inside a small chassis, thermal overload protection, flexible crossovers, extended inputs. HTX amplifiers are a well balanced match for all of the Wet Sounds™ products.
Features include:
RMS Power @ 4 ohm Stereo     100 x 6 watts RMS @ < 1.0% THD
RMS Power @ 2 ohm Stereo     150 x 6 watts RMS @ < 1.0% THD
RMS Power @ 4 ohm Mono     300 x 3 watts RMS @ < 1.0% THD
Input Sensitivity     Variable from 0.2V to 6.1V
Frequency Response -3dB     7Hz-33Hz
Bass Boost     0db -12db @ 45Hz
Crossover Range Low Pass     50Hz – 150Hz 12dB/Octav
Crossover Range Subsonic Filter     10Hz – 50Hz 12dB/Octav Separation     >52dB
S/N Ratio (Awtg) >62dB (1 watt 4 Ohm) >85dB (125 watts 4 Ohm)
Note:     All specifications are for each HTX6
Please check the manual for installation notes and full technical specifications: <a href="http://www.wetsounds.nz/wp-content/uploads/Wet_Sounds_HTX-Series-Manual.pdf">Wet_Sounds_HTX-Series-Manual</a>
REVO8 SPECS
Wet Sounds is proud to present the newest innovation in marine speakers, the REVO Series. The series comes in two sizes, 6.5'' and 8" models, and both are loaded with industry leading features to be the best speaker on the market. The series comes with 1" Titanium Tweeters for clear high frequency detail, Wet Sounds exclusive Nylas (Nylon reinforced fiberglass) composite frame to withstand the harshest environment. An injected molded advanced composite mid-bass cone for tight bass and distortion free performance. Each speaker comes with RGB LED tweeter glow kit that will allow thousands of color options and with 8 different grill options for both Salt and Fresh water, you can match the look and feel of your boat.
Sold in Pairs.
Features include:
• 1" Titanium Tweeter for crisp, clear high frequency details
• Wet Sounds exclusive Nylas (Nylon reinforced fiberglass) high stiffness composite frame to withstand even the harshest environments
• Injection Molded Advanced Composite Mid-Bass Cone for tight bass and distortion free performance
• Wet Sounds rubber spider is the industry's only santoprene rubber spider that is impervious to water saturation and dry rot
• Thermoformed santoprene rubber surround for permanent attachment to the cone
• 12dB audiophile crossover with air core inductors, mil spec tolerance parts and integrated tweeter protection for the highest performing marine speaker in the world
• RGB LED Tweeter Glow Kit Included allows hundreds of color options
• 8 Different Grill Options available • More choices than the competition!
• Description    Value
• Impedance:    4 ohms
• RMS Watts:    150
• PEAK Watts:    300
• Frequency Response:    35Hz – 22kHz
• Sensitivity:    92 db at 1watt/1 meter
• Weight: (pair)     13Lbs (5.89 Kg)
• Diameter:    8.89" w/grill (225.80mm)
• Mounting Depth:     4.0"
• Mounting Depth:     102mm
• Hole Cut Out:     7.1" 
• Hole Cut Out:     180mm
• Note:    All specifications are for each REVO8
Please check the manual for installation notes and full technical specifications: Wet-Sounds-REVO-Series-Manual
REVO10 SUB SPECS
Free Air REVO subs are recommended primarily for Infinite Baffle (Free Air) applications where a dedicated subwoofer enclosure is not available or practical.
The 8″, 10", & 12" REVO FA subs are available in White or Black frames (Black frames use metallic grey cones). REVO-8FA subwoofers are available in single 4 Ohm impedance.
All REVO 8″,10" & 12" Subwoofers share the same design features.
Features include:
Powder Coated Cast Aluminium (REVO10/12) or Nylas Composite (REVO8) Frame – to withstand extreme environmental use. Designed to accept optional RGB wiring.
Injection Moulded Composite Cone – For durability & low distortion.
Santoprene Rubber Spider – Much more durable to water & temperature changes than a traditional treated Cotton Spider used by the majority of marine speakers & subwoofers.
Santoprene Rubber Surround – Offers a superior bond to the composite cone. Also resists deterioration due to water, temperature & ultraviolet exposure.
Gold Plated Terminals – Designed to resist corrosion.
Diameter: 11.02 inches w/grill (279.90 mm)
Frequency Response: 20Hz to 500HZ
Sensitivity: 88 db at 1watt/1 meter
Box Specs: Optimized for Infinite Baffle (Free Air) applications or 1.3 cu ft sealed enclosure
Mounting Depth: 4.62 inches w/grill 
Mounting Depth: 117.47 mm w/grill 
Hole Cut Out: 9.45 inches 
Sub Size: 10″ Cone (254mm)
Colour: Black Application Type: Free Air
All REVO Subwoofers are sold without grills. 8 different grill designs are available separately for the 8″ FA subwoofer. This will enable users to have matching grills on both REVO Coaxial In-Boat speakers & REVO Subwoofers. Optional RGB LED Kits are available to fit under all REVO 8″,10" & 12" subwoofer grills to enable users to have thousands of LED light display combinations
ACCESSORIES
SUBWOOFER GRILL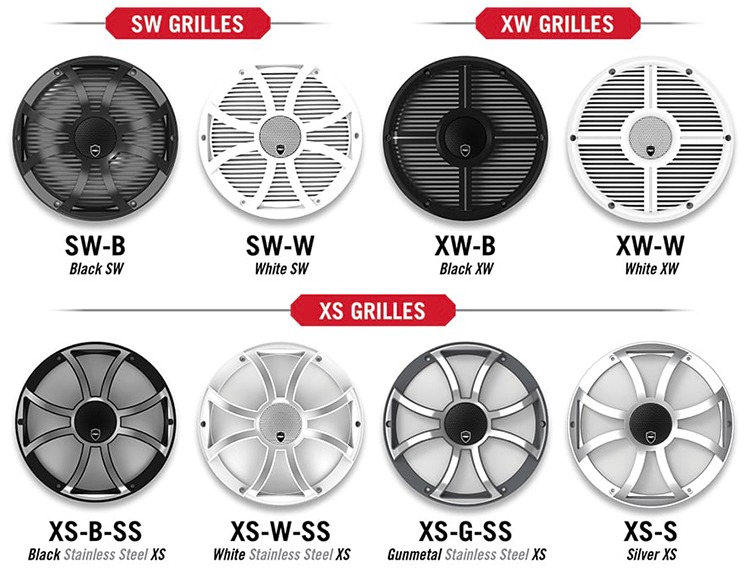 CH 17Ft Wet Wire Connector Cable
---